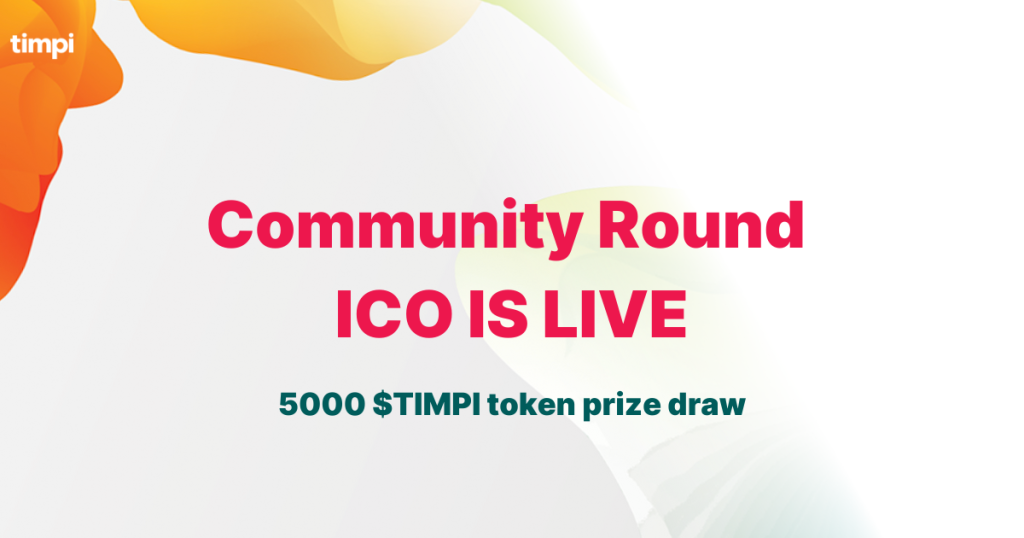 We are eager to announce that the community round is NOW OPEN (15th June 7pm UK, 11am PT, 6am Auckland, NZ) and will run either until the allocation is sold out or the 29th of June!

To celebrate this milestone and to thank our participants – all those participating (and completing some actions) will be entered into a prize draw for 5000 $TIMPI tokens. Read below to find out how!
Why participate?
1) Price – you can get in on this round for ONLY 11c USD per $TIMPI token, compared to 12.5c USD per $TIMPI token during the Public ICO in August.
2) Small Allocation – The allocation for this round is ONLY 3 million $TIMPI tokens.
3) Become a Validator – only a limited number of spaces available and will depend on who stakes the most $TIMPI – this is your chance to get in on this at the lowest price for the community before the Public ICO round and stash up your $TIMPI for becoming a validator on the network.
4) Voting power – Double down on your voting power.
5) Win 5000 $TIMPI tokens – Have a chance to win 5000 $TIMPI tokens by participating in this round (details on how to enter below).
How to Participate?
To be eligible for this community round you MUST:
1) Fill out the Whitelist Application form HERE (if you haven't already)👇
https://timpi.io/whitelist-application-form/
2) Complete at least 1 ACTION using this link & using the email you provided for the Whitelist Application form👇
https://timpi.io/community-round-5000-timpi-prize-draw/
3) Register to the ICO platform and complete your KYC and payment HERE 👇
https://ico.timpi.me/login
Please ensure that you use the same email address when completing
✅ The Whitelist application form.
✅ The actions (for the 5000 $TIMPI prize draw).
✅ The ICO platform registration.
How to enter the 5000 $TIMPI token prize draw?
To enter the prize draw for 5000 $TIMPI tokens you MUST:
How can I increase my chance of winning 5000 $TIMPI tokens?
You can increase your chance of winning the 5000 $TIMPI token grand prize by completing as many actions as possible. Each action will give you at least 1 additional entry to the draw (some actions will reward you by up to 5 entries!).

Thanks for your continued support and good luck in securing your $TIMPI!